The Nintendo Switch is one of the bestselling consoles of all time, and with the Switch Lite and the Switch OLED , that shouldn't change anytime soon. Nintendo paid a lot of attention to playing on the go when designing the Switch, and, thankfully, there are numerous ways to enjoy your system in the living room, too.
The Joy-Con grip is fine — we'll get to just how well it can work later on — but a proper controller makes the Switch feel much more like a home console. It doesn't matter if you prefer fast first-person shooters or slow narrative-driven experiences, our list of the best Nintendo Switch controllers has a gamepad for you. We'll also include a list of frequently asked controller-related questions at the bottom.
These are the best Nintendo Switch controllers.
Recommended reading
Nintendo Switch Joy-Con Pair
Pros
Official Nintendo gear
Works with a lot of accessories
Classic Switch design
Yes, these are the basic controllers that come with the Nintendo Switch, but having a few spares is handy, especially with the number of local co-op games available on the Switch.
The versatility of the Joy-Cons is incredibly useful, both with the system in its handheld configuration and docked in an entertainment center. Each comes equipped with face buttons, two bumpers, triggers, and directional buttons, as well as additional bumper buttons located on the side for when you're only using one of them at a time.
When attached to the Switch, the Joy-Cons are nearly perfect, offering much better control over your game than you'd get with an older Nintendo system or even the PlayStation Vita. You can even hand one to another player to play some Mario Kart 8 Deluxe (or other multiplayer game) on the go. These Joy-Cons work with the newer Switch OLED model, as well.
The Joy-Con controllers can also be attached to the Joy-Con grip to turn them into a sort of standard gamepad, albeit a small one. If you don't opt for another controller, it does the job admirably, and we were able to make it through dozens of hours of The Legend of Zelda: Breath of the Wild without using anything else. The Joy-Con Charging Grip is a good choice for those who don't want to worry about reattaching the Joy-Con to the console after each session to juice them up.
It is worth mentioning that the infamous "Joy-Con drift" issue still persists to this day, resulting in movement from the analog stick without actually touching it. This issue has plagued users from the beginning, and while it isn't as common today, can still happen, especially with older Joy-Con. We'll cover that in more detail in the FAQ section below.
This controller, being an official Nintendo product, is also widely supportive of other Nintendo Switch accessories.
Nintendo Switch Joy-Con Pair
Nintendo Switch Pro Controller
Pros
Great for docked gaming
Better for more complex games
Long battery life
For players who spend the majority of their time with the Nintendo Switch in its dock, the small Joy-Con grip might feel too small. In that event, you'll want to invest in the Nintendo Switch Pro Controller.
It's expensive, usually retailing for around $70, but the rechargeable Pro Controller comes with large face buttons, bumpers, triggers, and analog sticks. It also has a more traditional directional pad that feels similar to those available on the Wii U's controllers. Its shape is similar to the Xbox Series X's controller, and its internal battery lasts far longer than the PlayStation 5's DualSense.
The Pro Controller isn't just for playing the Switch at home, either. Some larger carrying cases for the Switch, such as the Game Traveler Deluxe, include a compartment that can either hold a Joy-Con grip or a Pro Controller. With the system's kickstand or a separate stand, you can be playing your favorite games on the go using the same controller you use at home.
This is the best controller to use for a more "core" experience that mirrors modern consoles. Use this controller if you're playing precise shooters like Apex Legends or Splatoon 3.
Nintendo Switch Pro Controller
HORI D-Pad Controller (L) - Nintendo Switch
Pros
Improves controls in handheld mode
Comfortable
Many fantastic designs
Cons
No rumble
Only relevant in handheld mode
When using the Nintendo Switch in its handheld configuration, it can feel slightly odd due to the lack of a traditional directional pad on the left Joy-Con, which instead uses split buttons. To rectify this, Hori created its own left Joy-Con controller, complete with a directional pad and available in a variety of different styles.
For those playing 2D platformers on the go, it will make controlling your character feel more natural, though you'll sacrifice rumble in the process.
The Hori Joy-Con isn't meant to completely replace your regular left Joy-Con, as it's only compatible with the system in handheld mode. It also reportedly drains the Switch's battery more quickly than other controllers, but its $25 price means you can only use it occasionally and still feel like you got your money's worth.
HORI D-Pad Controller (L) - Nintendo Switch
8bitDo Zero 2
Pros
Colorful designs
Lightweight
Perfect for traveling
Cons
A few bugs with earlier firmware
Very limited Mac compatibility
Going on a road trip and want to play Mario Kart 8 Deluxe or Donkey Kong Country: Tropical Freeze with your friends? 8Bitdo's Zero 2 controller is a tiny alternative to the Joy-Con controllers that contains all the buttons you need for split-screen multiplayer games.
In addition to a traditional direction pad, face buttons, and shoulder buttons, it also includes motion control support, and it's available in a variety of colors meant to emulate the Game Boy Pocket.
As an added bonus, the 8Bitdo Zero 2 controllers also support the PC, Mac, and Android devices through Bluetooth, and their firmware can be updated wirelessly. They're available now.
8bitdo lite
Pros
Great for multiplayer games on the go
Affordable
High quality
Welcoming the Nintendo Switch Lite with open arms was none other than 8Bitdo, the pioneer of the inexpensive and effective Nintendo Switch controller revolution.
The Nintendo Switch Lite, unlike the regular Switch, is a purely handheld experience. That's how Nintendo sold it, anyway. And while you can't detach its controllers and hook it up to a TV for a bit of big-screen gaming, you can connect other controllers to it. The 8Bitdo Lite controller is a micro-sized pad designed to complement the portability of the Nintendo Switch Lite. It foregoes joysticks in favor of two (or three) D-pads, lending itself more to 2D or slower-paced 3D games rather than, say, Astral Chain or Xenoblade Chronicles 3.
Oh, and the 8Bitdo Lite is affordable. Like $25 affordable. With turbo button functionality and a handy USB-C charging function, it's probably the best alternative controller out there for the Switch Lite player who doesn't always want to hold their console up to their face just to enjoy a spot of Stardew Valley. Just don't expect any fancy motion or rumble features. That's how those costs stay low.
PowerA Wired Controller Plus Brand
Pros
Less expensive than Nintendo-brand alternatives
10-foot cable for couch co-op
Beautiful designs
While some people prefer to take their Switch systems with them wherever they go, others rarely take them out of the dock. If you fall into the latter category and often play with friends, PowerA's Wired Controller Plus can serve as a good second gamepad for your guest.
It comes with a 10-foot cable, so you can use it from a couch without any issue, and it features a button layout nearly identical to the Pro Controller. It also comes in two Nintendo-themed designs that include Mario and Zelda. The problem is that they're sort of hard to find these days.
For those of you who aren't enthused about wired controllers, there's also an enhanced version of PowerA's Controller that uses Bluetooth so you don't have to stay tethered to your console.
The Wired Controller Plus won't necessarily replace the Pro Controller as it lacks motion functionality and HD Rumble, but for the price, it's hard to pass it up, and you can purchase one or two extra to accommodate larger gatherings.
PowerA Wired Controller Plus Brand
GameCube Controller Super Smash Bros. Ultimate Edition
Pros
Nostalgia
Cred in Super Smash Bros. Ultimate tournaments
Great ergonomics compared to newer Switch controllers
No, this isn't a new lookalike GameCube controller meant to emulate the real thing — the Nintendo Switch actually supports the classic GameCube controller with the use of a special adapter.
Both are available for Super Smash Bros. Ultimate on the Switch, giving veteran players the classic control scheme they know and love. The adapter is identical to the one used for the Wii U, so you can plug that into your Switch if you still have it, and this gives you enough ports for everyone in the match to use a GameCube controller.
The GameCube Controller is a unique beast, and perhaps that's why it's better to simply support it on future systems rather than attempt to copy it. Its C-stick, asymmetrical button layout, and ergonomic shape make it a must-have for any Smash Bros. fan, and it's even being reproduced specifically for fighting fans who don't want to use one of the Switch's newer controllers.
If you want to play your Switch using GameCube controllers while you're traveling, the only way to do so out of the box is by bringing your dock with you. However, 8BitDo released the GBros. wireless adapter to coincide with Super Smash Bros. Ultimate.
The GBros. wireless adapter connects to the GameCube controller like the Wii's Classic Controller did, effectively turning it into a wireless controller with up to 30 hours of battery life. It even has "share" and "home" buttons so you aren't missing out on any features, and its color scheme matches the original GameCube's purple design. If you want to use it with the NES Classic, SNES Classic, or Wii Classic controllers, you can do that, too.
GameCube Controller Super Smash Bros. Ultimate Edition
PDP - Wired Fight Pad Pro Controller for Nintendo Switch
Pros
Less expensive than Nintendo's version
Cool customization options
No need for batteries
Want to play with a GameCube-style controller but don't want to spend money on Nintendo's  USB adapter or a third-party adapter? The PDP Wired Fight Pad Pro Controller mimics the look of a classic GameCube controller. With the standard left analog stick and a smaller C-stick on the right, the face buttons feel nearly identical to Nintendo's own controller.
It also includes shoulder buttons and triggers on both sides, so you can use it for Switch games that a standard GameCube controller wouldn't be able to handle.
The Wired Fight Pad Pro Controller doesn't include motion sensors like the Joy-Con or Pro Controllers do, as it was primarily designed as an alternative accessory for playing Super Smash Bros. Ultimate. You can remove the C-Stick on the right side and replace it with a second analog stick, and this comes included with every controller.
They are available in Mario, Zelda, Pikachu, Luigi, and Peach, variants so you can let your friends know who you're going to take into the next match.
PDP - Wired Fight Pad Pro Controller for Nintendo Switch
ESYWEN wireless Switch controller
Pros
Bluetooth connectivity
Mapping customizations
Sleek design
Nintendo's own accessories — as well as most third-party options — don't allow for much in the way of customization. The Esywen wireless Switch controller is an exception to that, offering a similar layout to the Pro Controller, but with several options to give you the ideal gaming experience. The controller features adjustable turbo and dual motors, both of which have three different levels to select, and retains the motion control functionality of the Pro Controller. It also pairs via Bluetooth and comes with a three-year warranty and technical support in case you run into any problems.
The Esywen is less than half the price of the Pro Controller as well, and because it is charged with a standard USB-C cable, you can keep playing while you charge. It loses the amiibo functionality of the official Nintendo options, but for the price, that's a pretty small concession.
If you're a fan of the PlayStation 5's DualSense setup instead of the Xbox controller's asymmetrical design, you'll also appreciate the Esywen Wireless Controller. Its sticks are both located under the buttons and directional pad, and all customization buttons are directly in the middle for easy access.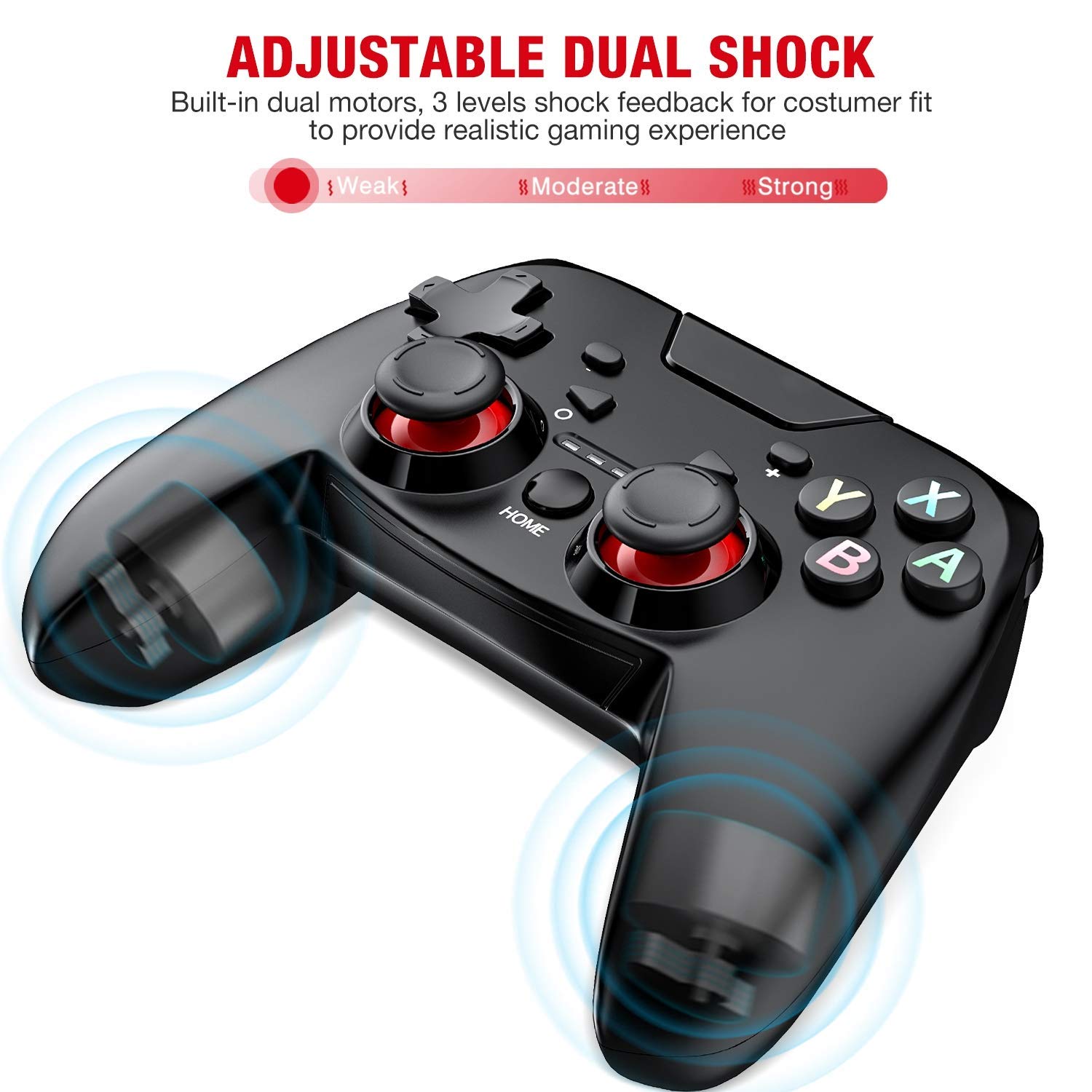 ESYWEN wireless Switch controller
PowerA Enhanced Wireless Controller
Pros
Over 40 custom designs available
A few customizable buttons
Less expensive than a Pro Controller
As mentioned above, Nintendo doesn't allow for much customization with its controllers. Even the expensive Pro Controller is essentially a "take it or leave it" deal. Thankfully, PowerA addressed this with its Enhanced Wireless Controller. This wireless option offers a similar design as the Pro Controller but with additional buttons to make your gaming experience even better. The best part, however, is choosing from around 40 character designs when you shop via PowerA's Amazon page. We bet you can't stop at one, though — these controllers are almost as collectible as Funkopops. 
The PowerA resembles the Pro Controller at first glance, of course. With similarly positioned analog sticks and the same face buttons, shoulder buttons, and triggers, it may not seem particularly extraordinary. The directional pad is slightly smaller than the alternatives, but it worked perfectly fine during our time testing it. It's also quite a bit lighter as it uses standard AA batteries. In contrast, the Pro Controller utilizes an internal battery pack.
Where it truly differs, however, is in the two customizable "Advanced Gaming Buttons." The controls function similarly to the paddles found on the Xbox Elite or Scuf Vantage controllers. You can quickly program these buttons to perform the function of any other button. Plus, you can switch them on the fly if you need to adjust your settings for a specific game. If you just want to use it as an alternative to the Switch Pro Controller, have at it. The PowerA Enhanced Wireless Controller still features motion controls suitable for all your favorite games -— despite its significantly lower cost.
PowerA Enhanced Wireless Controller
8BitDo Sn30 Pro+
Pros
Nostaliga
Great for NES and SNES titles
Comfortable
With the controller's unique combination of designs, it's suitable for everything from Animal Crossing: New Horizons to Astral Chain. In terms of quality, don't expect the SN30 Pro+ to feel quite as solid as the Switch Pro Controller. It also rattles a little too much when the controller shakes. However, the SN30 Pro+ will cost you $10 to $20 less than Nintendo's offering, so it's hard to complain too much.
Out of the box, the SN30 Pro+ is already set up for Switch. All you have to do is follow the pairing process on your console, and you're all set to play. The Pro+ is a standard Bluetooth controller that looks a lot like the regular SN30 Pro, but the extra + means you have more customization options. 
The SN30 Pro+, which includes Steam Big Picture support, works well with macOS, Android, and Windows. Even though it's compatible with macOS, you should know the SN30 Pro+ doesn't appear to work with iPhones or iPads.
We recommend connecting it to your computer at least once to take advantage of the wide array of customizations, even if you only plan to use the controller on your Switch. 8BitDo SN30 Pro's incredible configuration software lets you set up trigger dead zones, program macros, rebind keys, and more.
Since you already know and love your Nintendo Switch (we hope), it's time to find a controller you can bond with, too. From tabletop mode to handheld gameplay and more, our favorite Switch controllers let you customize your playing experience even more. After all, that's what the Switch is all about.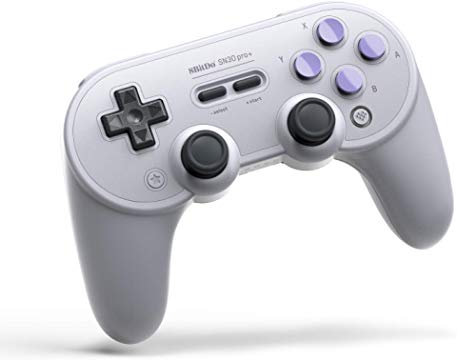 Nintendo Switch 1-Up Glow in the Dark Rematch Controller
Great for gaming on a budget
Pros
Affordable
Fancy design
Paddle back buttons
Those seeking an affordable, yet stylish Switch controller should look no further than the Nintendo Switch 1-Up Glow in the Dark Rematch. As its name suggests, it glows in the dark, and has a nifty Toad design all over it, allowing you to game with style.
Beyond that, it's comfortable and convenient, including a 10-foot cable, perfect for players who don't want to worry about batteries or keeping the controller charged.
The controller features back button paddles, which definitely makes it feel like a professional accessory without paying an exorbitant price. In short, this is a great option for those looking to game on a budget, without having to sacrifice style and practicality.
Nintendo Switch 1-Up Glow in the Dark Rematch Controller
Great for gaming on a budget
Frequently Asked Questions
Is the Pro Controller better than Joy-Con?
In general, the Pro Controller has a lot of benefits that the Jon-Cons lack. For one, the Pro Controller feels more like a traditional gamepad you might be used to with a PS5 or Xbox Series X. It also features more reliable analog sticks when compared with the Joy-Cons "drift" issues. You'll find that playing shooters with the Pro Controller will allow you to be more precise with your shots due to the size and layout of the device.
However, the Pro Controller does come at a steep price of $60 to $70, and if you're not keen on the idea of buying additional controllers, you can definitely get by with the Joy-Con. It also matters how you plan on using your controllers. If you tend to use your Nintendo Switch in handheld mode more, you won't necessarily need anything else, as the system comes with two Joy-Cons by default. It's also worth mentioning that each Joy-Con serves as its own controller, meaning you've got two functioning devices right out of the box.
Ultimately, you should base your decision on budget and playstyle. For us, the Pro Controller beats the Joy-Con in almost any situation, but your situation might differ.
How long do Nintendo Switch controllers take to charge?
According to Nintendo, the Joy-Cons take around three to four hours to charge, whether they're attached to the Switch itself, or the Joy-Con grip. As for the Nintendo Switch Pro Controller, that will take you around six hours to charge. When you boot up your Switch, you can check the battery life of your controllers by visiting the Controllers option on the system's main menu.
Can you use a Nintendo Switch controller on your PC?
In short, yes! You can use a Nintendo Switch Pro Controller on a PC in wired or wireless formats. It connects using Bluetooth, and below are the steps for pairing it with your PC.
Navigate to Bluetooth & Other Devices and make sure Bluetooth functionality is turned on.
Then turn on the Nintendo Switch Pro Controller and press the sync button, found at the top, next to the USB-C charge port. Press and hold this button, and green lights on the bottom of the controller will begin flashing.
On your PC, click Add Bluetooth or Other Device.
The Pro Controller will now appear on the list of devices. Select it and you'll be paired wirelessly.
Otherwise, you can also simply connect your Pro Controller to your PC with a USB-C cable. Plug the controller into the PC and your device should recognize the Pro Controller.
How many controllers come with the Nintendo Switch?
All Nintendo Switch systems come with two Joy-Con controllers each — a left and a right Joy-Con. The Joy-Con can be attached to the Joy-Con Grip to function as a standard controller for one player, with two analog sticks, a D-pad, face buttons, and shoulder buttons — or can be used individually, meaning you'll be ready to play multiplayer games right out of the box. Using the Joy-Con individually isn't ideal, but certainly gets the job done when playing multiplayer games like Mario Kart 8 Deluxe.
If you're going to be playing a lot of multiplayer games that require precision, we advise picking up a Nintendo Switch Pro Controller or an additional set of Joy-Cons for comfort. Though, you'll be happy to know you don't necessarily have to buy any additional controllers since the Switch comes with two.
Why are Nintendo Switch controllers so expensive?
If you plan on buying a new first-party Nintendo Switch controller, you might've noticed that they come with a hefty price tag. A new pair of Joy-Cons retails for around $70, while the Pro Controller is about $60 to $70 as well. These controllers are more expensive for a reason — they include technology like motion, HD Rumble, and a built-in NFC reader.
The motion included is more precise than the action you might have experienced with the Wii Remotes. Users describe HD Rumble as a way to feel the sounds from your game. It's a more refined version of the vibrations you've felt from other controllers. HD Rumble features a higher degree of vibrations with variable speeds to enhance immersion. The built-in NFC reader is made specifically for amiibo, which are the little Nintendo figures that you can scan into participating games.
The Joy-Cons and Pro Controllers' features are fantastic but optional, so if you can't afford them, you can get by by buying a third-party controller. You won't get these enticing elements that enhance your gameplay, but since third-party controllers are about half the price of a Nintendo-made controller, it might be worth it to you.
What is Joy-Con drift?
If you're part of the Switch ecosystem, you've likely heard of Joy-Con drift, which has plagued the system since launch. This is important to be aware of, especially when thinking about controller options. Joy-Con drift is a common issue that occurs with the controllers wherein the stick will "drift" on its own. This will result in your character or the camera moving on its own, leading to an unpleasant gaming experience.
Surprisingly, even several years after the launch of the Switch, Joy-Con drift persists. There are multiple DIY fixes, and Nintendo does replace Joy-Con with the drift issue. However, the issue hasn't seemed to be completely fixed overall — that is unless you buy the Nintendo Switch OLED. This system comes with "improved" Joy-Con, which features analog sticks with "all the improvements," according to Nintendo's technology development division director, Toru Yamashita.
These Joy-Con look identical to the older ones, but have revamped innards that hopefully remove (or increase the odds of) the drift issue. Though, according to TomsGuide, the issue still persists even with the new Joy-Cons.
How many controllers do gaming enthusiasts need?
There isn't a simple answer to this question, as it's largely dependent on the player's needs. For instance, a person who plays single-player games can get away with only having a Pro Controller or even the Joy-Con that comes in the box. Likewise, that same player might love shooters such as Fortnite or Apex Legends, so a Pro Controller is best, as it features a more traditional layout.
However, many families or groups play on the Nintendo Switch locally, with games like Super Mario Party or Mario Kart 8 Deluxe. In this case, having enough controllers for all players is ideal, even if each person only gets a single Joy-Con. Buying for a large group can be costly, though, so you might want to purchase some of the less expensive options like the PowerA Enhanced or the 8Bitdo Zero 2. Ultimately, it will come down to what games you play, how you play, and how many players you want to accommodate — along with budget.
Editors' Recommendations