What's the best phone in 2023? It may seem like a simple question, but it's anything but. Smartphones are so good these days, and while it's great having so many excellent options to choose from, it also means that finding the perfect one for you can be a challenge.
That's why we're here to help. Below, you'll find our picks for the best phones you can buy right now. Whether you're a longtime iPhone fan, are a diehard Android user, or you're open to any smartphone, we think you'll find something on this list that'll suit you perfectly.
If you have stronger preferences you want to stick with, see our picks for the best Android phones and the best iPhones. Otherwise, keep reading to see what we think are the best phones in 2023.
Apple iPhone 14 Pro
Best phone for iOS
Pros
Camera improvements mean great photos
Always-on display looks fantastic
Powerful A16 Bionic processor
Vibrant screen and clear speakers
Long-term software support
Cons
One-day battery life
Modest charging speed
Why you should buy this: It's the best iOS smartphone around, with outstanding performance, high-quality good looks, and powerful software.
Who it's for: Anyone who wants the best iPhone money can buy.
Why we picked the iPhone 14 Pro:
If you can afford it, the iPhone 14 Pro is absolutely the best iOS smartphone around right now. Apple has done it again, improving on the iPhone 13 Pro with a range of tweaks and upgrades, ensuring the iPhone 14 Pro is a must-buy. With top-notch performance, a stunning display, versatile cameras, and some exciting new additions, the iPhone 14 Pro is a triumph for Apple.
Starting with the design, it may look like not much has changed, and you'd be right in thinking so. The iPhone 14 Pro boasts the same flat, angular design, stainless steel frame, and toughened glass on the back as the iPhone 13 Pro. This time around, those buying the phone in the U.S. will notice the lack of SIM tray — this is Apple's first iPhone that's eSIM only.
The notch has gone too, replaced by a pill-shaped section at the top of the screen that Apple calls the Dynamic Island. Right now, this is fairly simple, and it only expands to show information on timers, face unlock alerts, Bluetooth connections, and screen and voice recordings — but consider it a work in progress. Speaking of the display, the 6.1-inch Super Retina XDR screen has a 120Hz refresh rate with Apple's ProMotion, a feature you won't find on the basic iPhone 14. You get up to 1,600 nits of brightness and a boost to 2,000 in bright outdoor sunlight — a handy bump — and Ceramic Shield protecting the display.
Apple's always-on display not only looks great, but comes in handy too, with notification alerts, dynamic widgets, and the time and date over your choice of wallpaper. A quick tap wakes controls for audio and music apps, though it's true the feature might not be good news for battery life. You can turn it off though, if you like.
This time around Apple's offering the iPhone 14 Pro in Space Black, gold, silver, or the gorgeous Deep Purple colorway that looks simply stunning.
Under the hood, the iPhone 14 Pro doesn't disappoint either, with Apple's new A16 Bionic processor giving you another reason to choose the Pro model over the standard iPhone 14. Though there's no immediately noticeable performance boost compared to the A15 chip, you're getting Apple's latest and most powerful processor, which will handle anything you throw at it. Apple's solid update record ensures it'll stay that way for years to come, too. Storage options range from 128GB to 1TB, giving you ample room for photos, videos, and apps.
Where the iPhone 14 Pro falters slightly is battery life. Though it settles down once it gets to know your usage habits, don't expect the battery to see you through two days, and prepare to carry a battery pack or make plans for top-up charging with heavy use. There's no charger in the box, just a USB Type-C to Lightning cable, and with a 29W charger, you should see the battery reach full in around an hour. That's consistent with Samsung's flagships, but a far cry from the fast charging on offer from some other brands.
The phone's cameras are excellent too, and even the subtle enhancements on offer make a noticeable difference. The 12-megapixel wide-angle lens and 12MP telephoto lenses are still there, with a 48MP main this time around, ensuring plenty of detail and strong color accuracy. You can also shoot video in up to 4K resolution at 60 frames per second (fps).
The Apple iPhone 14 Pro is a must if you want the best from Apple, though it doesn't come cheap. Prices start from $999, but you can also find it on almost every major U.S. carrier. It's truly the best smartphone you can currently buy.
Apple iPhone 14 Pro
Best phone for iOS
Apple iPhone 14
Best phone for iOS runner-up
Pros
Comfortable, high-end build
OLED screen looks fantastic
A15 chip performs great
Good camera upgrades
Dependable battery life
Helpful safety features
Cons
60Hz display
No telephoto camera
eSIM might be a pain for some
Though the iPhone 14 Pro snagged our top iPhone spot, its weakness may be its price. It isn't actually that much better than its lower-priced sibling, the iPhone 14, though it does boast a few key additions and improvements.
At $799, the iPhone 14 offers a similar high-end build, 5G connectivity, dependable (though not excellent) battery life, and the latest iOS 16. This time around though, Apple's left the latest A16 Bionic processor to the Pro and Pro Max models, so the iPhone 14 sticks with the A15 chip. There really isn't a noticeable difference in performance here, with the A15 able to handle everything you throw at it, and then some.
You're missing out on the 120Hz ProMotion display though, with only a 60Hz refresh rate on offer. It might be an issue if you play the latest, most demanding games on your phone, but bear in mind you're saving $200 or more over the Pro model. You'll also miss out on features like the always-on display and Apple's Dynamic Island, only coming to the iPhone 14 Pro and Pro Max — the iPhone 14 retains the familiar notch and looks a lot like its predecessor, the iPhone 13.
The cameras here are mostly unchanged from the iPhone 13 — though the main camera boasts a slightly wider aperture — with some fairly modest enhancements compared to the almost entirely new camera system of the iPhone 14 Pro.
Ultimately, it comes down to whether these new features and improvements are worth the extra $200 to you. The opportunity to save that cash might be one that's hard to turn down.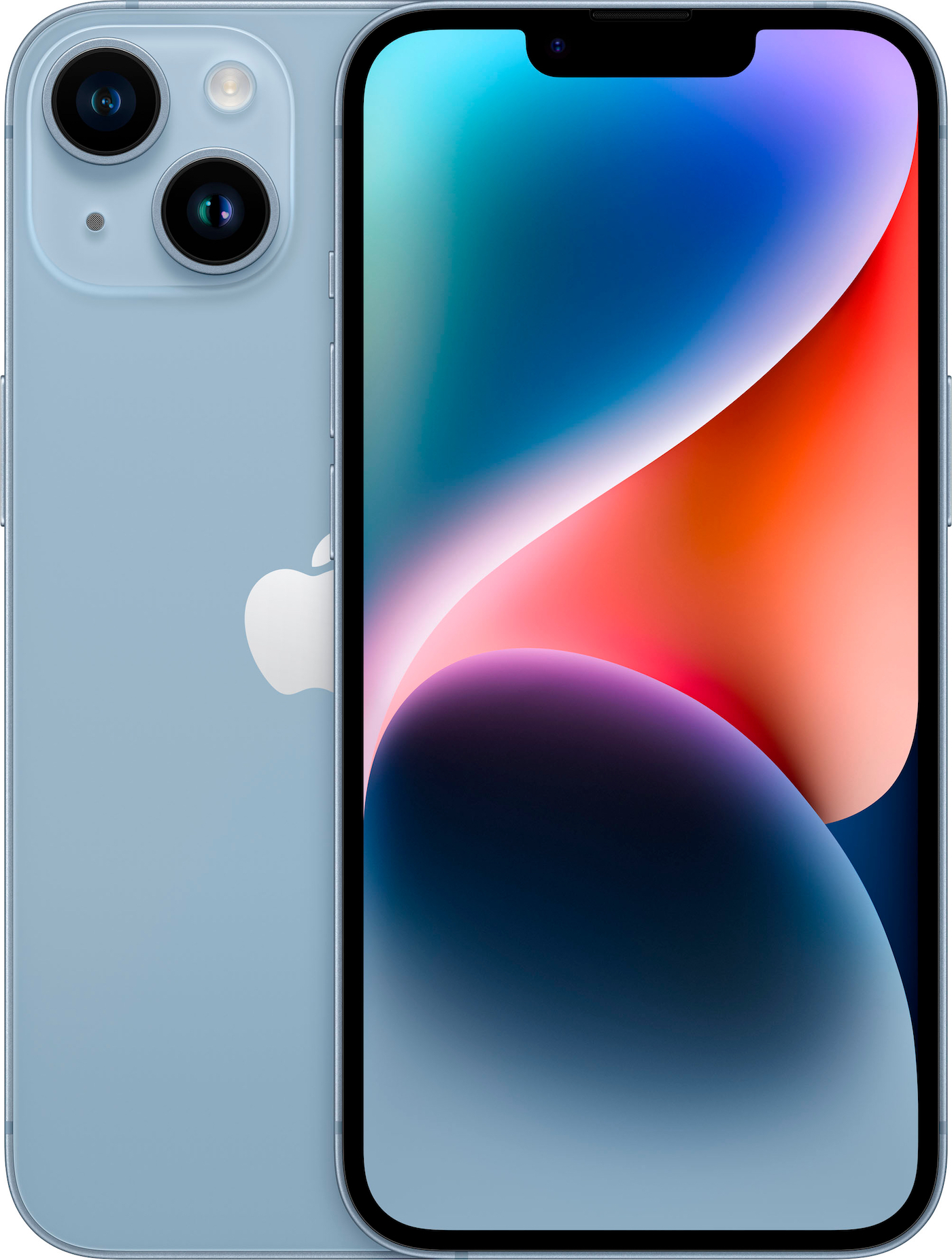 Apple iPhone 14
Best phone for iOS runner-up
Samsung Galaxy S23 Ultra
Best phone for Android
Pros
Incredibly powerful processor
Versatile telephoto zoom camera
S Pen adds value
Water resistant and durable
Long software update commitment
Many interesting features to explore
Large, bright, detailed screen
Cons
Wired charging is complicated, and only 45W
Big and heavy
Why you should buy this: Samsung has somehow topped last year's S22 Ultra to create a truly sublime smartphone.
Who it's for: Anyone looking for the best Android has to offer.
Why we picked the Samsung Galaxy S23 Ultra:
You'd be forgiven for thinking the Samsung Galaxy S23 Ultra could be a bit of a boring update. After all, Samsung wasn't changing the design, or doing anything drastic with the S22 Ultra's basic formula — but it turned out all the S22 Ultra needed to become truly incredible was a few tweaks. The S23 Ultra may not be a paradigm shift, but it is an excellent phone, and our pick for best Android smartphone.
It's safe to say it's a gorgeous phone, with soft curves around the edges and a flat top and bottom. The S Pen has a dock at the bottom, and the massive 6.8-inch Super Dynamic AMOLED 2X display is broken only by a simple punch-hole for the selfie camera. Unlike most of the competition, the rear camera module isn't separated from the rest of the back, and it gives the device a clean design language of its own. The color choices are as subtle or stylish as you want them to be, and it's all backed up with Gorilla Glass Victus 2, Samsung's Armor Aluminum, and an IP68-rating for dust and water resistance.
We've seen the Snapdragon 8 Gen 2 in other phones, like the OnePlus 11 below, but the processor goes up to a new level in the S23 Ultra. It's the "Snapdragon 8 Gen 2 for Galaxy" now, which basically means it's been overclocked and optimized for Samsung's devices. Does that make a difference? As it turns out, yes. We couldn't do much to faze this processor, and it handled everything we threw at it. Add in the generous amounts of RAM and storage, and you have a performance powerhouse that should last for years.
The camera is another incremental upgrade, and the hardware improvements are largely confined to upgrading the main lens to 200MP. This makes a difference to image quality (and the S23 Ultra produces exceptional pictures), but the biggest wow factor comes from the improved zoom. Like the S22 Ultra, the S23 Ultra has a 3x telephoto lens and a 10x periscope telephoto lens, and both have been improved. The 30x digital zoom has really been upgraded though, and it's moving from being a "fun, but underwhelming" feature to something that actually creates good images. It's quite astounding, and there's no other smartphone that offers this level of zoom photography.
Everything else is just as good. The S Pen continues to be an excellent stylus, and Samsung's One UI skin has grown into a strong version of Android. The desktop-emulating DeX mode is still here, and so is a swathe of other extra features you can explore at your leisure.
The battery is solid and can last two days with moderate use. Even more intensive use will see it last a full day with some change at the end. It's impressive endurance. Charging tops out at 45W, which should refill your battery in about an hour, though there's no charger in the box, so you'll need to buy your own. There's also support for wireless charging and reverse wireless charging too.
The Samsung Galaxy S23 Ultra starts at $1,200, with 256GB of storage, so it'll cost you quite a lot of money. However, with some exceptional cameras, stupendous processing power, and two days of battery life, it's fair to say this is a phone that can easily last you for many years before needing to be replaced.
Samsung Galaxy S23 Ultra
Best phone for Android
OnePlus 11
Best phone for Android runner-up
Pros
Eye-catching design
Two-day battery life
25 minute battery charging
Characterful camera
Long software update commitment
Cons
No wireless charging
Portrait camera disappoints
Why you should buy this: This is OnePlus's best smartphone in years, delivering a flagship experience and outstanding bang for your buck.
Who it's for: Someone who wants an outstanding Android smartphone that doesn't cost a fortune.
Why we picked the OnePlus 11:
The Samsung Galaxy S23 Ultra is an incredible phone in so many ways, but not far behind it is the OnePlus 11. This is a successor to the OnePlus 10T, a phone that left us feeling worried and uncertain about OnePlus's future. But OnePlus clearly listened to feedback on the 10T, because the OnePlus 11 is so excellent in so many ways.
Hardware-wise, the OnePlus 11 looks and feels great. The camera design is polarizing, but it's also unique and unlike anything else on the market. The phone feels incredible to hold, too, thanks to a stainless steel frame and glass backside. And, yes, the alert slider is back on the OnePlus 11 — allowing you to easily adjust notification sounds with a physical switch.
But it's what's beneath the OnePlus 11's design that makes it so special. Powering the phone is Qualcomm's Snapdragon 8 Gen 2 chipset. Simply put, it's a beast. Apps open instantly, it powers through graphically-intense games without heating up, and it's wonderfully battery efficient — easily getting through two days of use on a single charge. And when your battery does run out, 80W charging gets you from 0% to 100% in about 30 minutes.
Just as impressive is the OnePlus 11's camera system. The 50MP main camera delivers lovely results, producing images that are eye-catching and full of character. And thanks to the 6.7-inch AMOLED display, you have an excellent canvas for looking at your images, favorite websites, movies, or anything else.
What are the downsides? The OnePlus 11 only has an IP64 rating for dust and water resistance, meaning it isn't as well safeguarded against water as the S23 Ultra. It also lacks wireless charging, and the 32MP telephoto camera has a paltry 2x optical zoom — resulting in pretty disappointing zoom performance. The upside to all of this is that the OnePlus 11 starts at just $699. If you want an amazing Android phone but can't stomach the price of the Galaxy S23 Ultra, the OnePlus 11 is the way to go.
OnePlus 11
Best phone for Android runner-up
Samsung Galaxy A53 5G
Best cheap phone
Pros
Pretty design
IP67 water-resistance
Camera is great for social media
Vibrant screen
Two-day battery life
Cons
Performance can be sluggish
Not an upgrade to the A52 and A52S
Why you should buy this: The Samsung Galaxy A53 5G looks good and packs a punch for a budget price.
Who it's for: Buyers on a budget looking for a safe, sensible choice that won't disappoint.
Why we picked the Samsung Galaxy A53 5G
On a budget but want the best value for your hard-earned cash? Samsung's A-series phones are generally an excellent buy, and the A53 5G follows in the footsteps of its predecessors.
Packing a gorgeous 6.5-inch 120Hz display, up to 8GB of RAM, a Samsung Exynos 1280 processor, and up to 256GB of onboard storage, it's easy to be impressed by the Galaxy A53. It's also one of the few phones still offering a MicroSD card slot, and the massive 5,000mAh battery should easily see you through two days of use, provided you're not a hardcore gamer. The phone takes around 80 minutes to fully charge with the 25W fast charger (not included).
With an IP67 water resistance rating, 5G connectivity, the same camera setup as the Galaxy A52 — a 64MP main, 12MP wide-angle, and a pair of 5MP cameras for macro and depth, plus a 32MP selfie cam — improved fingerprint sensor, and Samsung's industry-leading updates promise, it's easy to see why this is a great choice for $350.
It's true that the performance can be sluggish, the overly-saturated camera colors aren't for everyone, there's no wireless charging, and it's not the best device for gaming enthusiasts. But for anyone looking for a reliable phone that won't break the bank, the Samsung Galaxy A53 5G is the ideal budget buy.
Samsung Galaxy A53 5G
Best cheap phone
Google Pixel 7
Best phone value
Pros
Superb camera
Long battery life
Eye-catching design
Vibrant screen
Years of software updates
Fantastic price
Cons
Slow charging
Software bugs
Poor gaming performance
Why you should buy this: It packs a superb camera, generous updates policy, and long battery life into a stunning form factor.
Who it's for: Anyone looking for power, beauty, and flagship-level specs at an affordable price.
Why we picked the Google Pixel 7:
The Google Pixel 7 is an excellent choice if you're on a budget but don't want to compromise on specs. It shares the same sleek design as the Pixel 7 Pro, with a similarly outstanding camera, vibrant screen, and excellent battery life.
The Pixel 7's glass and metal body looks a lot like the Pixel 6 at first glance, though there's no two-tone finish to the rear this time, and the horizontal rear camera bar is aluminum, with both the front and back of the phone protected by tough Corning Gorilla Glass Victus. The 6.3-inch OLED display is a hair smaller than its predecessor's 6.4-inch screen, and the 90Hz refresh rate is a little disappointing amongst a sea of 120Hz displays. With that said, the screen looks great and you'll likely only notice the difference with heavy multitasking or while playing the latest games.
Under the hood, you'll find Google's latest Tensor G2 chip, which is built using a 5nm process, 8G of RAM, and up to 256GB of storage. The phone runs Android 13 out of the box, with an expanded and more customizable Material You, packs an IP68 rating for water and dust resistance, boasts 5G connectivity, and will receive years of Android updates — plus, battery life is excellent.
The main reason to buy the Pixel 7, however, is the camera. You're getting the same 50MP wide-angle, 12MP ultrawide, and 10.8MP ultrawide selfie lens as the Pixel 7 Pro, with all the familiar features from the Pixel 6 series, including Night Sight, Magic Eraser, Photo and Face Unblur, and more. The Pixel 7 allows you to take great shots effortlessly, in almost any lighting conditions.
True, charging is slow, gaming performance isn't the best, and there have been reports of software bugs, but when you consider that the Google Pixel 7 starts from just $595, it's easy to see why it's such a solid choice.
Google Pixel 7
Best phone value
Google Pixel 6a
Best phone value runner-up
Pros
Compact, lightweight design
IP67 water resistance
Flagship-grade performance
Excellent cameras
Clean software
Years of guaranteed updates
Cons
Display is only 60Hz
Tensor chip runs hot
Lacking battery life
Why you should buy this: It has everything incredible about Google's flagship cameras, at a bargain price.
Who it's for: Someone who prizes camera quality, but doesn't want to spend the earth.
Why we picked the Google Pixel 6a:
We've included the Pixel 6a on the strength of its camera, but don't think that means the rest of the phone is weak. The Google Pixel 6a is an extremely strong smartphone for the price, with a flagship processor, compact design, and years of updates. But it's the camera that really makes it stand out from the crowd.
At first glance, you'd expect the cameras to be a bit of a letdown. The Pixel 6a uses a pair of 12MP lenses: a main lens and an ultrawide lens. That's much lower than the megapixel counts in most competing smartphones, but don't rely just on the paper stats. The Pixel 6a takes well-balanced but vibrant shots in a range of lighting, and expertly uses HDR to capture more challenging scenarios, like direct sunlight. The Night Sight mode isn't as good as in more expensive Pixel phones, but it's still good, especially at this price.
As mentioned, the rest of the phone is impressive too. The Pixel 6a uses the same Tensor chip found in the Pixel 6 and 6 Pro, so it has flagship-level performance and shouldn't balk from any of the latest 3D games. It does run hot under load though, so keep an eye on that. Battery life doesn't shine as much, being largely limited to a single day. Chraging is also fairly slow at just 18W.
The display looks good, thanks to the Full HD+ resolution. It is limited to a 60Hz refresh rate, which is a disappointment, but it's otherwise fine for the price. The clean Android software is a big highlight though, and so are the guaranteed updates for years to come.
With a starting price of $449, it's also extremely well-priced. If you're looking for an excellent camera phone, but don't want to pay flagship prices, then the Pixel 6a is one of the best options around.
Google Pixel 6a
Best phone value runner-up
Apple iPhone 14 Pro Max
Best big iPhone
Pros
Exquisitely premium design
Beautiful 120Hz display
Dynamic Island is a joy
Always-on screen is gorgeous
Incredible camera system
Blistering performance
Outstanding battery life
Robust iOS 16 software
Cons
One of the heaviest phones you can buy
Expensive
Why you should buy this: It packs a huge, stunning screen and feels substantial, and the design won't fail to impress.
Who it's for: Anyone who wants the best big-screen iPhone around.
Why we picked the iPhone 14 Pro Max:
Big phones aren't for everyone, but if you're a fan of something more substantial, the iPhone 14 Pro Max ticks all the boxes, and then some. We really do mean substantial — this phone is a beast, weighing in at 240 grams and measuring 160.7mm tall. Visually, it looks a lot like the iPhone 13 Pro Max, but you'll find many of the same tweaks and upgrades as on the iPhone 14 Pro. A gorgeous display, versatile cameras, and sleek design set it apart from the crowd.
The iPhone 14 Pro Max features a familiar design, with its stainless steel frame and frosted glass back, yet it feels a cut above the finish and feel of other smartphones in the market. If you're buying the phone in the U.S., the lack of a SIM tray is immediately apparent — as with the iPhone 14 Pro, this is an eSIM-only affair.
Onto that striking screen. The 6.7-inch display packs a 120Hz refresh rate that, combined with iOS 16, ensures buttery-smooth animations. The always-on screen looks great and is handy for dynamic widgets, notification alerts, and more. Colors look beautiful and vivid, with brightness boosted up to 2,000 nits in direct sunlight — and 1,000 nits of typical brightness — so you'll never struggle to see your phone's screen.
As with the iPhone 14 Pro, the notch has gone the way of the dodo, with Apple's Dynamic Island taking its place. Hopefully, it'll pack more of a punch in the future, but right now you can use it to keep an eye on timers, manage music apps, show face unlock alerts, and a few other handy things.
When it comes to performance, Apple's A16 Bionic chip that we mentioned earlier doesn't disappoint and can handle anything you throw at it, with up to 1TB of onboard storage and Apple's reliable update record.
In our review, the phone's battery endurance impressed. Once it settles into your usage habits, you can expect the 4,323mAh battery to easily see you through a day of heavy use. In practice, we saw over seven hours of screen time which included 40 minutes of YouTube, 1 hour and 20 mins of Twitter, over 30 minutes of browsing on Safari, plus dozens of other apps. With more regular use you can easily expect the battery to see you through two days on a single charge. Again, there's no charger in the box here, and charging speeds peak at 29W.
The phone's cameras are versatile and produce excellent results, with a 48MP main, 12MP telephoto, 12MP ultrawide, and 12MP front-facing camera, which packs autofocus for the first time on an iPhone.
If you want the best big screen iPhone around, this is the one to get, though the cost may cause you to think twice, with prices starting from $1,099.
Apple iPhone 14 Pro Max
Best big iPhone
Apple iPhone SE (2022)
Best small iPhone
Pros
Compact and light
Very powerful
Touch ID works really well
Wireless charging
IP67 water resistance
Cons
Poor battery life
60Hz screen
64GB won't be enough
Why you should buy this: Apple's latest iPhone SE (2022) is a pint-sized wonder that's powerful, affordable, and future-proof.
Who it's for: Those looking for a future-proof phone that fits in their pocket (and their hand).
Why we picked the Apple iPhone SE (2022)
Finding a truly small phone today feels like hunting for a needle in a haystack, but the iPhone SE (2022) is really, truly small, with its tiny 4.7-inch Liquid Retina display with 60Hz refresh rate. Sadly, the design feels a bit dated, cribbing the iPhone 8's design, with chunky bezels and a Home button with integrated Touch ID.
Looking beyond its size, there's a lot going for the iPhone SE. Under the hood, you're getting Apple's latest A15 Bionic chip with the same performance spec as the iPhone 13 Pro. There's also 4GB of RAM, 64GB, 128GB, or 256GB of storage, and a decent battery, though heavy use may see you struggle to make it through the day with much left in the tank. You'll be up and running fairly quickly with 18W fast charging and Qi wireless charging.
You also get a single 12MP rear sensor and 7MP selfie camera, identical to the previous iPhone SE. But it's Apple's software that makes a difference here, with Deep Fusion technology, Smart HDR 4, and Photographic Styles, as well as improved Portrait Mode. There's no Night Mode though, so shooting in low-light environments can be a challenge.
Add 5G connectivity, iOS 15 out of the box, and five or six years of OS updates, and it's easy to see why the iPhone SE (2022) is our best small smartphone. Yes, the design feels a bit old-fashioned, those bezels are pretty clunky, and there's no charger in the box — but now we're nitpicking. The iPhone SE (2022) comes priced at an incredible $429, so you won't need to break the bank to afford it.
Apple iPhone SE (2022)
Best small iPhone
Samsung Galaxy S23
Best small Android phone
Pros
Sleek and compact design
Comfortable for one-handed use
Very fast performance
Reliable cameras take great photos
Long-lasting battery life
Five years of guaranteed updates
Cons
Base storage is still 128GB
Fast charging up to only 25W
Limited zoom quality past 10x
Why you should buy this: It has fast performance, reliable cameras, and a lightweight and compact design that is comfortable for one-handed use.
Who it's for: Anyone who wants a powerful Android but prefers a smaller phone.
Why we picked the Samsung Galaxy S23:
Though a lot of Android phones are on the bigger side these days, those who want a non-folding Android phone that's still small and compact should check out the Samsung Galaxy S23. It's the latest for Samsung's flagship Galaxy S series of phones, and the base model is perfect for small phone fans. Thanks to the materials used, the S23 is not only small, but it is super lightweight and comfortable enough to use with just one hand.
You'll find a gorgeous 6.1-inch Dynamic AMOLED 2X FHD+ display on the S23, which looks sharp and crisp with a density of 425ppi. Colors look rich and vibrant, and blacks are deep and pure. The 120Hz refresh rate makes scrolling and animations incredibly smooth, and the 1,750-nit outdoor peak brightness means you can use your phone without an issue while out in direct sunlight.
The Galaxy S23 is packed with a Snapdragon 8 Gen 2 for Galaxy, which is the result of a partnership between Samsung and Qualcomm. So not only is this the latest Snapdragon processor but it's specially made for Galaxy devices by having faster clock speeds and better optimization. Snapdragon 8 Gen 2 for Galaxy means the S23 has blazing-fast performance with Android 13, whether you're being productive, unleashing your creativity, or playing games to kill some time.
While Samsung gave the best camera to the S23 Ultra with the 200MP sensor, the Galaxy S23 still has very reliable cameras that make it hard to take a bad photo or video. You'll get a 50MP main camera, 12MP ultra-wide, and 10MP telephoto, with optical image stabilization on the main and telephoto cameras. The telephoto gives you 3x optical zoom, but you also get up to 30x digital zoom as well, which is decent enough if you want to really zoom in on something (the quality past 10x depends on what you're taking a photo of). With Snapdragon 8 Gen 2 for Galaxy, capturing photos and video is quick and easy, and everything renders fast.
As mentioned, the Galaxy S23 comes equipped with Android 13 with Samsung's custom One UI 5.1 interface layered on top. You'll get four major Android upgrades and five years of security updates through 2028. The S23 starts out with 128GB, but you can go up to 256GB storage if more is needed. Both versions cap out at 8GB RAM.
The Galaxy S23 has a 3,900mAh battery and supports USB-C fast charging, but only up to 25W. Still, that's pretty fast, as you can get 50% charge in just 30 minutes with the appropriate charger (sold separately). It takes a little over an hour to go from zero to 100%, which is really not that bad. A single full charge should get you through an entire day, if not more, depending on your use. Wireless charging caps out at 15W and you also get 4.5W reverse wireless charging, in case you need to charge up your wireless earbuds in a pinch.
Overall, the Galaxy S23 packs in a lot of power in a convenient, compact package.
Samsung Galaxy S23
Best small Android phone
Samsung Galaxy Z Fold 4
Best foldable phone
Pros
Usable cover screen
Excellent multitasking features
Inner screen is great for games and video
Reliable and fun camera
Water resistant and durable materials
Cons
Heavy use kills the battery
Slow charging
Why you should buy this: Folding phones are the future, and the Galaxy Z Fold 4 is the most powerful foldable around.
Who it's for: Anyone looking for a powerful phone in a foldable form factor.
Why we picked the Samsung Galaxy Z Fold 4:
Can't decide whether you love your phone or tablet more? With Samsung's latest foldable, you don't need to choose. Now in its fourth generation, the Samsung Galaxy Z Fold 4 boasts some great improvements over its predecessor, ensuring it's not just a great folding phone — it's an excellent smartphone in its own right.
The main reason most people want a foldable is, of course, those dual screens. This time around the Z Fold 4 is not quite as tall, or as slim as the Z Fold 3, so it feels more comfortable to hold, particularly one-handed. The outer display is a 6.2-inch Dynamic AMOLED screen, with a massive 7.6-inch display inside. It's like hiding a tablet screen inside your smartphone, and both screens boast a 120Hz refresh rate too.
There's much, much more on offer here, though. The Z Fold 4 is powered by Qualcomm's powerful Snapdragon 8+Gen 1 processor, with 12GB of RAM and up to 1TB of onboard storage. It's a powerhouse that's excellent for productivity or playing the latest games on that gorgeous screen. Speaking of productivity, the Z Fold 4 runs Android 12L and Samsung's own OneUI 4.1.1 interface, with new features like the Taskbar for multitasking. There's an improved hinge, and IPX8 water resistance rating too, so this foldable will stand the test of time.
With its plethora of improvements, the Galaxy Z Fold 4 doesn't come cheap. The starting price is around $1,520 from Samsung. That's a lot of dollars, but if your heart is set on Samsung's best foldable, the Z Fold 4 is the one to get. Right now, you can nab the 512GB model for less than the model with 256GB of onboard storage, too.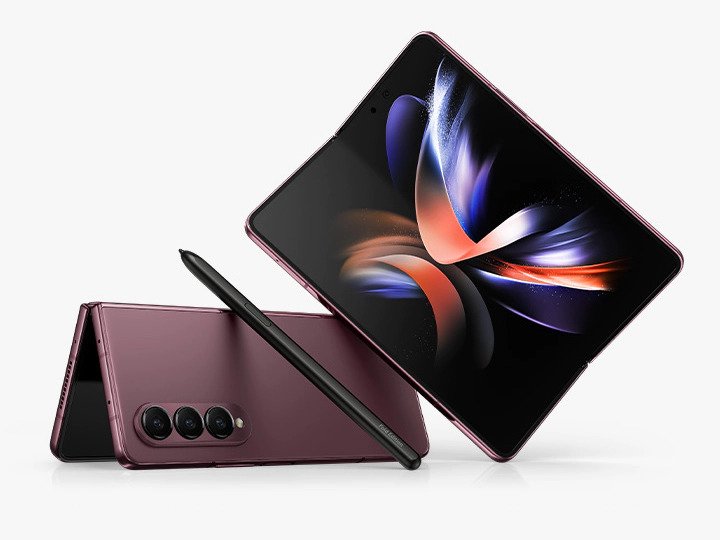 Samsung Galaxy Z Fold 4
Best foldable phone
Samsung Galaxy Z Flip 4
Best flip phone
Pros
Flatter design looks and feels fantastic
Bespoke customization is unmatched
Excellent main display
Blazing fast performance
Good, fun cameras
Cons
Battery still only lasts a day
Limited cover screen functionality
Why you should buy this: It looks great, boasts fast performance, and has a fun foldable form factor and bespoke colorways.
Who it's for: Anyone looking for their first foldable with a cute, compact design.
Why we picked the Samsung Galaxy Z Flip 4:
If the Z Fold 4 seems like overkill but you're curious about foldables, the Samsung Galaxy Z Flip 4 is the phone for you. With some minor but marked improvements over its predecessor, it's the best mainstream foldable on the market right now, and it's adorable to boot.
This time around the Z Flip 4 has a frostier matte finish on the rear that does a great job minimizing fingerprints, with a flatter frame and slightly refined hinge that gives it a more compact footprint than the Z Flip 3. Don't be fooled by its cute form factor though — it's seriously durable, thanks to its IPX8 water resistance rating, Armor Aluminum frame, and Corning Gorilla Glass Victus.
The main display is a 6.7-inch Dynamic AMOLED screen with adaptive 120Hz refresh rate and impressive 1,200 nits of brightness, offering excellent viewing angles, and though the crease is noticeable, you'll start to subconsciously ignore it the more you use the phone. Flex Mode is a handy feature that automatically moves the app you're using to the top part of the screen, allowing the bottom half to be used for controls.
The 1.9-inch cover screen boasts the same 512 x 260 resolution as its predecessor and is excellent for checking notifications, viewing calendar appointments, or sending a quick reply to texts. Using the cover screen rather than constantly flipping the phone open and closed will also help conserve battery life, so it's a good habit to get into.
The Z Flip 4 is powered by Qualcomm's Snapdragon 8+ Gen 1 processor, with 8GB of RAM that may be limiting for serious multitasking, and up to 512GB of onboard storage. It's powerful enough to play the most graphically demanding games, though it does get a little warm.
Running Android 13 and Samsung's One UI skin out of the box, the Z Flip 4 will get four major Android updates and five years of security patches, making it an excellent futureproof choice.
There's a dual camera setup to the rear with 12MP main and 12MP ultrawide lenses, plus a 10MP selfie camera. Samsung claims the main sensor is 65% brighter than on the Z Flip 3, meaning the phone takes pretty good night-time shots.
Another area that's seen improvement is battery life. The 3,700mAh battery gets a 500mAh bump over its predecessor, though it will still only see you through a single day of use.
With its minor but important improvements, the Galaxy Z Flip 4 is set to be every bit as much of a bestseller as the Z Flip 3. You can pick it up starting at around $900 from Amazon.
Samsung Galaxy Z Flip 4
Best flip phone
Frequently Asked Questions
What is an unlocked smartphone?
A locked smartphone is tied to a specific carrier's network, so if your phone is locked to Verizon, for example, you can only use it with a Verizon SIM and service plan. An unlocked smartphone can be used on any network. If you've paid in full for your phone, then it should be free to unlock. We have a guide that will show you how to unlock a phone on every carrier. You can also buy some great unlocked phones that will work with any carrier straight out of the box.
Can smartphones get viruses?
While it is possible to get viruses on iPhones or Android phones, what most people mean when they say "virus" is malware. Technically, the term virus means software that infects a host, inserts itself into an existing program, and then spreads that infection by self-replicating. They are a very small percentage of malware and extremely rare on smartphones, but malware isn't. You should definitely think about how to protect your smartphone from hackers because a little common sense can save you from having to work out how to remove malware from your phone.
What should I do with my old smartphone?
The most obvious thing to do with your old smartphone is to pass it on to someone else. If you want to gift it, then make sure to wipe it first; we have guides on how to wipe your Android phone and how to factory reset an iPhone. You may also want to turn that old phone into cash, in which case you'll want to read up on how to sell your smartphone. You may decide to keep it as a spare in case your new smartphone breaks, but you could also repurpose it with the right apps. It's better to pass it on to someone who can use it or find another use for it than let it languish in a drawer. If you can't think of a good way to reuse your smartphone then consider donating it or recycling it.
How long should a smartphone last?
Realistically, you should expect to get two to three years out of your smartphone. You can extend the life of any smartphone by taking proper care of it and it's always worth shopping for good protective cases. There are also loads of good waterproof phones to choose from nowadays. The problem with many Android phones is that the manufacturers and carriers are slow to push out software updates, so the software can become dated and even insecure over time. With that said, Samsung recently set new standards for updates, promising four OS updates and five years of security updates on select Galaxy devices including the Galaxy S23 series, Z Fold 4 and Z Flip 4, and predecessors the Z Flip 3 and Z Fold 3. Apple is also known for its lengthy updates promise, while Google offers three years of Android OS updates and security updates for the Pixel 7 and Pixel 7 Pro.
Do phones cause cancer?
The question of whether cell phone radiation is dangerous is still hotly contested in some quarters. It is technically classified as "possibly carcinogenic to humans" but that puts it in the same category as coffee, gasoline, and nickel. There have been many studies, but we still lack any scientific evidence to provide a definite answer to the question one way or the other. Most official bodies, including the Federal Communications Commission, Center for Disease Control, and National Cancer Institute agree there's no proven link right now, but also acknowledge that we need more research.
How do prepaid phones work?
Prepaid cell phones work just like any other phone, but they come without a monthly contract or long-term commitment. You usually pay for service in advance. When you buy a prepaid phone they tend to come with a fixed number of minutes, text messages, and possibly a fixed amount of mobile data. This removes the chance of any overage charges. When you run out, you simply top up by buying more minutes, texts, and data in chunks.
Which operating system is best for you?
This is where things get personal. Picking a smartphone operating system is a huge deal. You're buying into an entire ecosystem of apps and compatible products when you choose between Android and iOS.
Apple's iOS is beautiful, simple, and easy to use, and the App Store offers the best app selection imaginable. Every aspect of iOS is curated by Apple, and it shows. Android is more open and it has fewer rules, which means more customization options, but it also means that manufacturers and app makers can willfully ignore Google's Material design language and do whatever they want, sometimes rendering Android unrecognizable and cluttered. Android is gorgeous, as seen on Google's Pixel 7 and Pixel 7 Pro, but you don't always see it like that.
Since Apple is the only company that makes iPhones, it also has complete control over software updates. As such, iPhone owners always get the most recent and best iOS experience possible. Android users don't have that luxury. Unless you own a Pixel device — and fairly few Android users do — you may have to wait months to get software updates.
Software updates contain security fixes, which keep your phone safe from malware, viruses, and hackers. Android is the most heavily targeted mobile operating system because it's far and away the largest, so this is something you have to keep in mind when considering phones from companies that have a less-than-stellar track record of releasing updates.
In contrast, Apple can patch security flaws and send the updated software to all iPhone users immediately. Since most users update their software when prompted, most iOS users are protected from these very real threats. Apple's iOS also offers full encryption with no compromises.
If you still haven't found what you're looking for, then we also have ideas about the best rugged phones, best phones for kids, and the best gaming phones.
How we test
A phone is so much more than its spec sheet. Your entire life is stored on it, from your photos and contacts to your music and your favorite apps. For that reason, we take great care when we review phones to recommend only the absolute best out there.
We use each phone we review as our daily driver for an extended period to test out all the features. We do benchmarks, play games, take photos, plunge them in water, and use them until their batteries expire. Then we charge 'em up and do it all over again. We test devices like real people use devices. We're not in some stuffy lab performing obscure tests. We're running around the cities we live in using these phones just like you use your phones. Then we think about each phone in comparison with its competitors to come to a decision: Should you buy this phone or something else? If the answer is "something else," we tell you what to buy instead.
Smartphone innovation has peaked, and the number of radical new features that come out each year is shrinking. As such, when you're buying a phone, you're buying a device that will be with you 24/7 for several years. It's a big choice, and things like apps, a product ecosystem, customer support, and security should be important factors in your buying decision.
Editors' Recommendations